Vedo F12 replaces the old, high, aluminium or steel sides – the only ones to date that could give the drawer a certain strength, but that create a visual barrier that obstructs the view of the drawer contents – with lower, transparent reinforced sides and fitted directly onto the guides, which do not affect the performance of the traditional drawer, but allow us to achieve two important objectives:
To create a drawer with transparent sides, making it easy for the pharmacist to see the medicines inside.
To reduce the overall size of the drawer unit, because this innovative reinforcing system has allowed us to shorten the unutilised portion of the guide.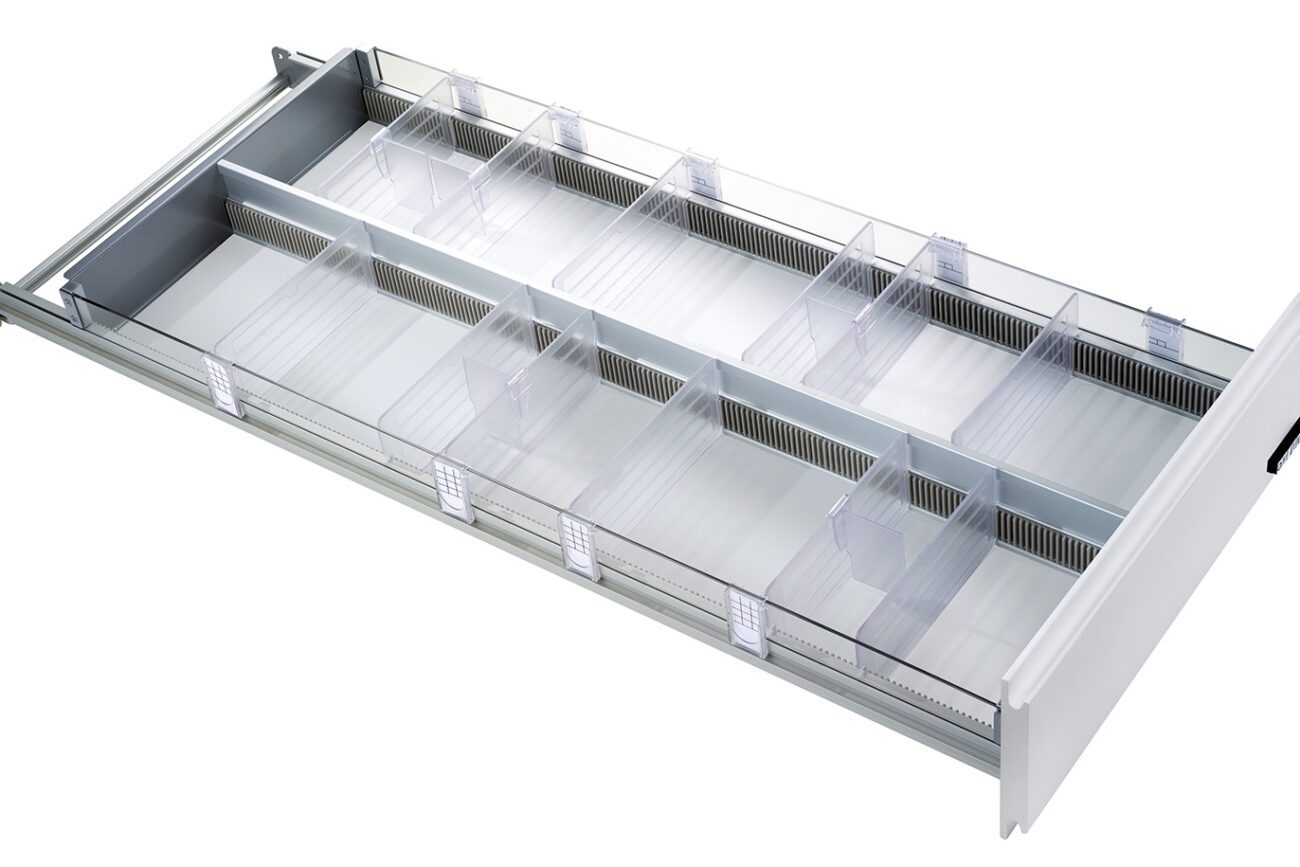 Different drawer bottoms are available:
Matt bottom drawer.
Transparent bottom drawer.
Grid bottom drawer.
All the drawers can be fitted with stepped trays, equipped with transparent partitions and specifically designed to hold homeopathic granule tubes. The drawer unit is equipped with a retractable platform that allows the user to reach the top drawers with ease. The platform retracts automatically after use.
Vedo F12 is predisposed for the possible fitting of side, upper and rear panelling. The back panelling is fixed by means of hook brackets made specifically to size, depending on the depth of the drawer. This is a special feature of the Vedo F12 drawer unit that makes this product unique on the market.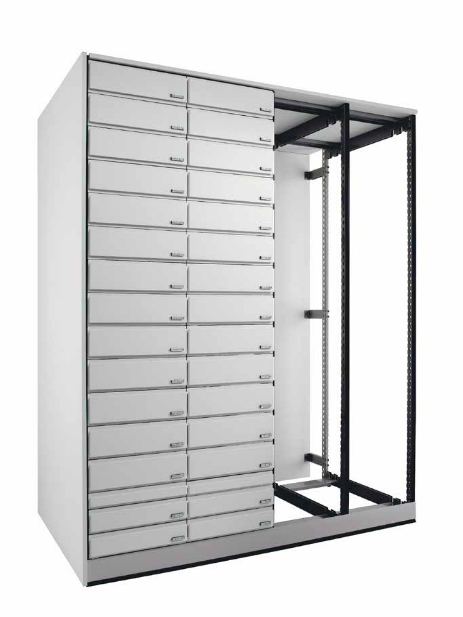 The entire load-bearing structure of the Vedo F12 drawer unit is modular, thus offering many advantages, the most important being:
The ability to create a "package" that takes up the minimum amount of space.
• Easier movement of the components, making for quick and easy assembly.
UNDER-COUNTER DRAWER UNIT
The Vedo F12 range is completed by an under-counter drawer unit, also having a modular load-bearing structure, with which to create single or multiple unit blocks as necessary at any specific time and according to the customer's own operational requirements, to be inserted into a single box or multiple boxes.